---
"Soft Wave, a tantalizing and sophisticated recording for the urban New Age listener....full of vivid imagery" New Frontier

"Cooper makes a grand impression as a serious musician and a sensitive, talented composer." Tom Benford, New Jersey Herald

"Capable of making significant waves in the domains of contemporary jazz and instrumental new
age music." East Coast Rocker Harmonies

"For those who like pop jazz here's one for you..." Victory Review


---


Produced by Rick Krizman and Jessie Allen Cooper
Engineered by Rick Krizman
Recorded at Krizman's Farm, Venice, CA
Nature Sounds digitally recorded by Rick Krizman and Jessie Allen Cooper at Trancas Beach, CA
Mastered direct to Sony PCM digital
Soprano and Tenor Saxaphone: Jessie Allen Cooper
Synthesizer sequencing, keyborads, Linn drums and piano on Snowflake: Rick Krizman
Keyboards: Mark Cohen
Percussion: Arno Lucas
Keyboards on Storm Over Toyko Bay and keyboard bass on One Lonely Night: Rusty Hamilton
Guitar on Storm over Toyko Bay: John McDuffy
Flute on Storm over Toyko Bay: Peter Davison
Additional percussion on Talk to Me : Tony Ben
Fender Bass on One Lonely Night: Reggie McBride
Cover Illustration by The Art Factory

Talk to Me is dedicated to the Bottle-nosed Dolphin and and all other mammals of the sea.

Special Thanks to: Sal and Drew, J.A.Z. Ken Morgan, Bill and Rev, Yaari, Toes, Steve, NKB, Gloria, Kathleen, Connie, Archie, Lester, The crew at Avatar, The Moore Family, Paula, Andrea, and all our loving friends and family who supported us through this adventure.

© 1987(p) Narada Records (ASCAP)


---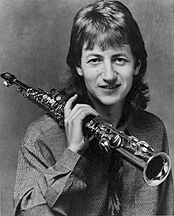 After cultivating this imaginative intermingling of natural and studio sounds for more than 10 years, Cooper offers it to the mass audience for the first time on his Sona Gaia debut album, SOFT WAVE -- six heart-touching compositions capable of making significant waves in the domains of contemporary jazz and instrumental/ New Age music.
Against the soothing backdrop of the Pacific Ocean's surf (recorded north of Malibu), Cooper coaxes a variety of tranquil, refreshing colors from his soprano saxophone, restoring a glow of warmth and intimacy to the instrument that other performers may be overlooking.
"Many saxophonists play a lot more notes than I do," says Cooper, a Washington native now living in Southern California. "They wind up sounding busier, more aggressive. I play fewer notes, but I feel fewer notes can say more because each one is so important to the composition, to the mood. Not as many musicians are as familiar as I am with the soprano sax. I also play tenor and alto, but to me the soprano is more of a spiritual instrument. It is the instrument that best expresses my personality."
Cooper wrote or co-wrote five of the six songs on SOFT WAVE. Co-producer/engineer Rick Krizman, plus synthesists Mark Cohen and Rusty Hamilton, all of whom perform on the album, also contributed to the songwriting effort. Key tracks include the inviting title song and "Talk to Me", which Cooper dedicates to bottle-nosed dolphins, which are heard frolicking among the melodic lines
of the piece.
"The natural sounds are mood-setters rather than the meat of the song," Cooper says. "I respect the things people such as Paul Winter have done, but this is new and different. We handled the sounds with a great deal of care to make sure they merged beautifully with the compositions.
"I love creating highly visual music. I remember feeling a little short-changed when I watched some early New Age videos. I would see a stream and hear a guitar, but I couldn't hear the stream. When I saw videos that involved flying, I wished I could hear the wind. To my ears, that was disappointing. I want my listeners to enjoy a very complete and tasteful picture when they hear my music."
Cooper's visual approach to music is explained by his passion for art. The walls of his home are filled with a widely eclectic collection of art, indicative of Cooper's diverse tastes. Presently his collection reflects the art community's progressive trend toward Southwestern art. In the past, Cooper has served as a framer for museums, and for many renowned artists, in addition to having created personal works that he describes as "spontaneous abstract expressionism".
"I was studying art before I studied music," he says. "during the recording of SOFT WAVE, I would bring art into the studio - lithographs, surrealist landscapes, reverse Byzantine glassworks, you name it. Rick and I began calling the music 'the movie', and whenever we got stuck, we would go over and look at the art."
Cooper acquired an interest in music due to his brother's fascination with drums. In his early teens, Jessie attended a John Mayall concert where he was overpowered by John's performance on the harmonica. Cooper then taught himself how to play the diatonic harmonica and became a popular performer with several regional rock and blues bands, yet its chromatic limitations compelled him to investigate and ultimately embrace the saxophone at age 19. The fruits of his love affair with the sax
are celebrated on SOFT WAVE.